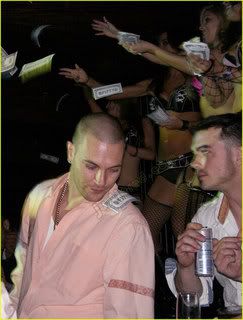 True Story:
As some of you may know, I spend my days writing steamy romance. It is my true calling, but since I am no Danielle Steel I must suppliment my income with a night job, dancing at Spanky's House of Ho's. A girl's got to make her cheddar, yo. Anyway I'm used to meeting plenty of big celebrities, but I must admit to being dazzled when none other than Kevin Federline himself wandered in the other night.
He and his posse had come prepared to party and soon enough the fifties were flying and oceans of Red Bull were consumed. Kevin was looking pretty darn hot with his newly shorn dome and shiny bling blazing from his ears, although he's much shorter than I'd imagined. The other dancers were egging me on to go talk to him so I did.
"Hey, Kevin," I began with a smile. "I really like your pink sweatshirt. My mom has one just like it."
He didn't answer. In fact, I don't think he heard a word I said because he was busy staring at my friend Diamond's new boobs. They are very nice but nothing special. I mean she just got the standard, run of the mill, double D's. Ho hum. I'm the one sporting triple F's!
I really wanted to ask him about Britney and the kids but soon it was time for me to go on stage. I just knew Kevin would be impressed with my act. I slowly peel off my clothes to the tune of "Popozao" while juggling balls of fire and contorting my body into the shape of a pretzel. Then my pet spider monkey, Tucksworth, who's dressed in a powder blue tuxedo, throws knives at me which I catch in my teeth. As my grand finale I pull a chain, and douse myself with a bucket of water while doing the splits and yodeling The Star Spangled Banner.
As I took my bows to a standing ovation, I glanced over to see how Kevin had enjoyed my dancing.
Would you believe he still had his eyes glued to Diamond's cleavage? Talk about a one track mind! I was so miffed that I ignored him for the rest of the night. Poor Diamond, didn't even get a big tip for her troubles. Instead of cash he slipped her a card that read, "Dr. Federline's Breast Examination Service, good for one free checkup!" Needless to say we were not impressed.