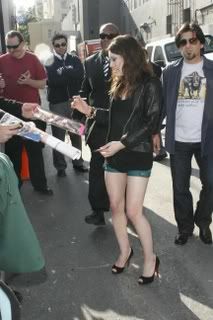 "Could you sign this for me, please? Oh my God, I'm freaking out! I love you! I just loved you in Mean Girls, Lindsay!"
"Oh no you didn't just call me, Lindsay! Don't you know who I am? I am Hilary Duff, star of Cheaper By the Dozen 1 and 2 and don't you forget it!"
Poor Hilary! It must be so hard to be a good girl in Hollywood nowadays when the bad girls get all the attention. Not only is she not mystic tanned into a sickly orange shade, but she sports no implants, hasn't been photographed falling down drunk, and we've never seen her vagina even once! In fact the only thing I can seem to recall about Hils is that her veneers resemble gigantic chiclets and her sister starred in "Napoleon Dynamite."
Gosh
.
Step it up, girl! Don't worry about talent, talent is for losers. If you ever want to get off the B-list then you've got to get yourself talked about. May I suggest a cocaine binge, shaving your head, and then attacking a photog's car with some sort of sharp implement? True, you may end up in rehab and people might call you a skank, but at least they will know your name!