Hey baby!
Oh that Richie! He is one hot lobster of love. Yummmmm I'd love some lobster with butter sauce right now. Or a rare New York strip steak with bleu cheese and strawberry shortcake and....Oh my God, I've already eaten my 500 calories for the day! What am I gonna do? How can I concentrate on tanning if I'm thinking about food?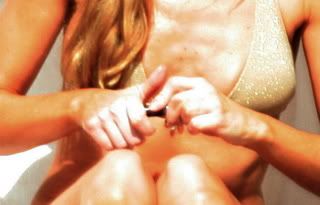 Looks like it's time for some of Mama's secret sugar.
Sniff. Snort. Snuffle. Hoover.
Ahhhhhhh that's better. Now I can tan in peace. Note to self, get Richie some sunscreen. He's gonna be shedding skin flakes all over the bed tonight. Gross!