Okay, I've had enough of this blah feeling. I want to get back to normal. It's time to write a song. Who should I pick on? Anna Nicole just died so she's out. All the usual celebrity twits are boring me lately. Well there's always Tom and Katie. Picking on Scientologists never gets old.
Let's see, how about we use the tune "Sk8er Boi"
He was a boy, she was a beard
could I make it anymore obvious?
She likes to shop, he can't accept that he's gay
what more can I say?
He -------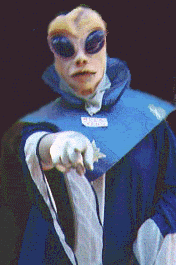 Xenu:
Are you there, Prunella Jones? It's me, Xenu!
Pru:
Holy crap! What do you want?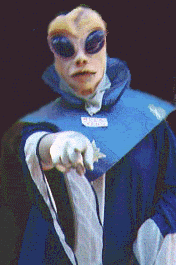 Xenu:
I'm very annoyed with you. You are constantly disrespecting my chosen one, Lord Cruise and his earth woman. I've had enough of this. You will learn your lesson and learn it well.
Pru:
Yeah right, I'm not scared of you. Bring it on.
Xenu:
Look into my eyes.....that's it. Keep looking.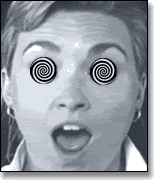 Pru:
Yes.....master.......
Xenu:
Do not mind my assistants. They are merely hooking you up to an e- meter. It won't hurt. Now then, let us get started. Prunella, I command you to tell me all of the bad things you've done in your life. Anything of which you might not want others to know. Once the church knows your secrets we an extort money from you....I mean we can better help you with your problems. Yes, that's it!
Pru:
Everything I've ever done? This could take awhile. Well......
Okay, I confess. I'm the one who gave Britney a wedgie the other day....
I swiped Richie Sambora's sunscreen.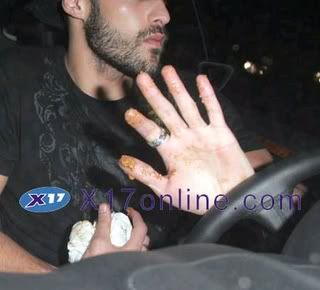 I'm the one who barfed peanut butter all over Isaac.
It was me who started the rumor in Hollywood that wearing panties causes sterility.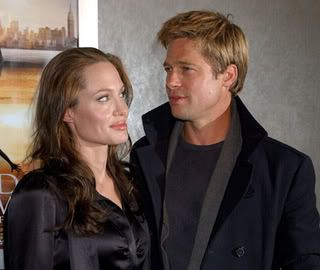 I convinced Angie that Brad would be the best dad for Maddox, and that Jen was done with him anyway.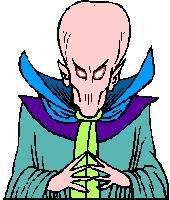 Excellent. Keep talking, Prunella. Lord Cruise, are you getting all this on tape?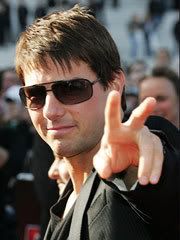 Yes, my master. I'm making two extra copies. This little troublemaker will not be bothering us again any time soon. Heh heh heh.