While bald men have always been around, a woman without hair is something of a rarity. If you do a google search for
bald women
you mostly come up with sites about breast cancer survivors.
Shaved women
will net you plenty of kinky porno sites. I think the reason people are so shocked by Britney Spears shaving her head is that for girls, hair is such a huge symbol of their feminity. Throughout history not many have been willing to part with their tresses. I could only find a few examples.
It's pretty dang hot in Egypt. It must have really sucked in the days before air conditioning. So one of the things ancient Egyptians did to stay cool was shave their heads. Both men and women did this. The rich made wigs with the shaved hair for those days when they wanted a change of style. The poor made their wigs out of shredded palm leaves, or sheep's wool. That's hawt!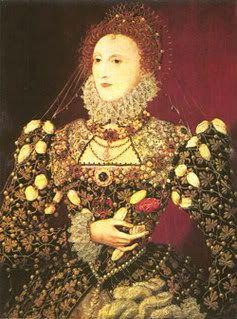 The first Queen Elizabeth was very fond of dying her hair red. Unfortunately hair coloring back then was made out of lead, sulpher, and quicklime. This toxic brew made her hairline creep back farther and farther as her hair fell out. But since she was such a trendsetter that became the craze of the day. Soon women everywhere were hacking the hair off their foreheads and plucking away all their eyebrows. Bald was beautiful, baby! Maybe that's why the Mona Lisa is pictured without eyebrows?
During the holocaust many Jewish women who ended up in the Nazi camps were forced to shave their heads. I took a tour of Dachau when I was in Germany and there were many haunting pictures of bald, traumatized women. That was the first thing I thought of after I saw this photo of Britney. It's very creepy seeing that Star of David along with the tiny tattoo on the back of her neck combined with her hairless head.
The Manson girls shaved their heads after Charlie was found guilty. Mostly because he told them to. Then they sat around waiting for Helter Skelter to begin. When it didn't, they let their hair grow back.
Sinead O'Connor rocked the skinhead look back in the eighies. She might still do so, I haven't seen much of her since she ripped up that picture of the Pope. Sinead is so lovely she actually looks better without hair.
Demi Moore took it all off for her movie GI Jane. Too bad the only thing I remember about that film is that Viggo Mortenson was really hot in it.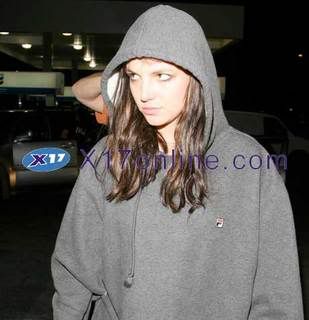 "So y'all think my extinsions are ugly? Y'all think I need to wash my greasy hair? I'll show you!"
"Ha ha! Take that y'all!"
"Uh oh. My mama is gonna kill me. I better get me a wig."
Don't worry, Brit. I know someone that will be happy to lend you a wig.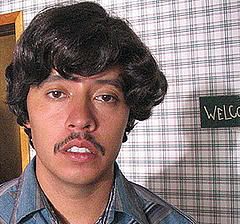 But make sure you vote for Pedro, okay?