And the award for the best Oscar outfit of the night goes to ....Sally Kellerman. Have you ever heard of Sally? She's an actress whose most famous role was in a movie called "Anna." I hadn't, but now that she has appeared on my rader I'm in love! I bet she'd be fun to have a glass of champagne or ten with. That parachute dress is fantastic. The tennis wristbands on the sleeves are an especially clever touch. I think it will be the perfect outfit to wear to my son Ozzie Danzig's wedding in 2032.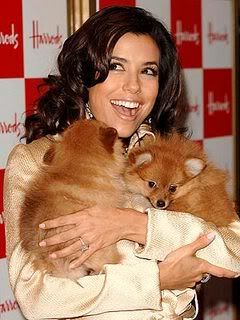 Eva thinks these two would make a great coat.
I like Posh's new hairdo. It's cute and breezy. I think I'll take this picture to my stylist. I'm already blond and skinny and I have some big, fake implants. All I need now is an orange tan and some granny sunglasses and me and Vic could be twins! Maybe I could get a job impersonating her at parties if I work on my pout.