Kate:
I'm so in love with these new Prada shoes that I can't stop looking at them. They are soooo cute! I wonder when this stupid game will be over.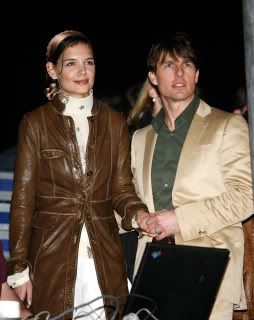 Kate:
God I wish Tom would stop clutching at me! His hands are so clammy.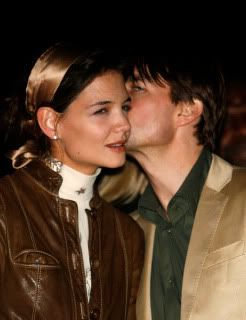 Tom:
Come on, Kate. Put a little more passion into it can't you? You're supposed to be an actress!
Kate:
(sigh) Whatever.
I've never thought much of Tom's acting but someone really needs to give homeboy some some tips on how to act like a normal, hetro, 40 something, married dude. Here is what I would advise.
1. Dudes don't feel the need to constantly paw, squeeze, fondle, clutch, grope, nuzzle, and squeeze their wives in public. A married dude knows he will be getting some, if not tonight then at some point.
2. Watching sports is an all consuming activity to most dudes. A lot of the time a dude will forget his wife is even in the room unless she brings him a beer at which point he will give her a loving pat on the bottom. Unless his team just scored, then he will be too busy cheering to notice anything.
3. A dude would never, ever wear a shiny, gold disco suit.
As my high school drama teacher used to say, the key to good acting is believability.
Of course maybe I'm just being cynical. Maybe, just maybe, Tom and Kate are having the love story of the century. Maybe their everyday lives are like a torrid romance novel. Now think about it, Kate is the lovely, naive ingenue and Tom is the older, worldly filthy rich man with a dark past. Can you picture it? Let's try that last picture again with some typical bodice ripper dialog.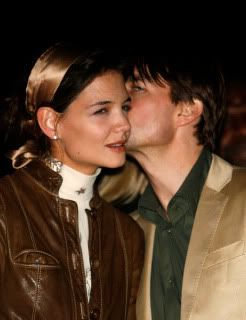 Tom:
I must have you, my little tempest. All of you, your heart, your soul, your slim suppleness belong to me. If another man so much as glanced at you I'd kill him with my bare hands! Kiss me now, you lovely wench!
Kate:
Darling Tiger!
Makes sense, huh? No wonder they're always all over each other! Aw it's so sweet. What do you think about them, Britney?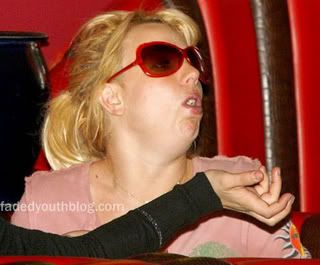 Oh come on, Brit! I just shampooed that carpet!