Evil Pru rarely has anything nice to say about anybody. So to help her review these Oscar gowns, we hired Little Richard and this random Geico loving chick.
Hi y'all! Let's begin.
Gwyneth Paltrow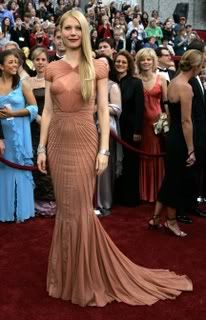 Evil Pru:
Ugh, fug. It looks like she's wearing the living room drapes. The color is unflattering, her hair is boring, and she's wearing her usual insipid smile. The whole effect reminds me of an ear canal.
L. Richard:
Help her! Somebody please help her!
Geico Chick:
Perhaps if she switched to Geico she'd have more money to spend on her appearance.
Jennifer Hudson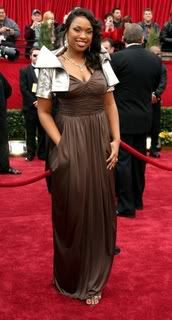 Evil Pru:
Did Xenu design this dress? Why am I hearing the theme music to "Close Encounters of the Third Kind" in my head? Pockets in a ball gown? Na-nu, na-no.
L. Richard:
Good God, y'all! That dress gives me the Heebie Jeebies!
Geico Chick:
At Geico we prefer cavemen to spacemen. Thumbs down.
Nicole Kidman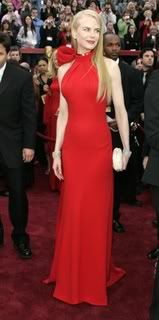 Evil Pru:
Yuck. The dress makes Nicole look like a Christmas candle. Or a nosebleed. Or a bloody ta-- oh nevermind, I'm not going to say that. Prunella will just come back and delete it. She's such a wimp.
L. Richard
Tutti frutti. Bama lama bama loo. Is it time for my pills yet?
Geico Chick
Oooo I love that gown. The color reminds me of a police car siren. And police car sirens make me think of car wrecks. And car wrecks make me so thankful that Geiko exsists!
Reese Witherspoon
Evil Pru:
Actually that's not too bad. I'd shoplift that dress.
L. Richard:
Good golly Miss Molly! The girl can't help it, she looks good!
Geico Chick:
The only thing better than that dress is saving money on your car insurance.
Evil Pru:
Hey Geico bitch, knock, knock.
Geico Chick:
Who's there?
Evil Pru:
Shut the f#*k up!
Geico Chick:
That was rude and abusive.
L. Richard:
Tee hee.