This is the gentlemen's club that my boss, the Mighty Midget, built.
It is also where I now work.
This is the guy who bought the gentlemen's club from the Mighty Midget. His name is Captain Peanut. He hates to talk and communicates mostly through large signs.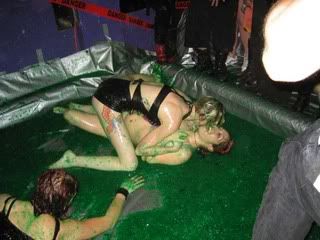 This is the new jello wrestling pit that Captain Peanut installed in the gentlemen's club. He says participation is mandatory.
This is the current Jello Wrestling Champion. I'm scheduled to fight her on Saturday night. Her name is Donna, and she told me she cannot wait to kick my ass.
This is my cool new phone. I'm going to use it to call in sick on Saturday. Unless you have a better suggestion????