By Prunella Jones
6 A.M.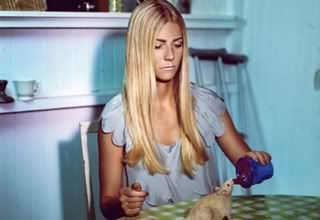 Rise and shine! I am up with the sun. Mostly because that's when my animals start howling for their food. Except for Tucksworth, of course. He never gets up before noon. This is my new rat, Schnozo 2. He has a very delicate stomach so I must feed him with a sippy cup. Schnozo 1 wasn't this picky, which is probably the reason he is no longer with us. He chewed through the toaster's electrical cord which schmelted him to the counter. Does anyone know how to get the smell of fried rat out of a kitchen? I've tried everything.
10:30 A.M.
Well thanks to my little run in with Britinia the other day, my knee is completely messed up. I can't work, and have to hobble around on crutches for a week. It's really pissing me off! I think I'll pray about it.
Dear Jesus, why did you let Britinia wreck my knee? It's not fair! Please make ten pounds of cellulite appear on her ass. And also, could you kill that asshole doctor who refused to write me a prescription for Oxycontin like I asked, but gave me Motrin instead? You can't get high from Motrin!! Oh and I'd really, really like it if you could please smite all those bastards at my insurance company as well. $500 deductable, my ass! Thank you, Lord, amen. PS - thank you for making me a hottie.
3:15 P.M.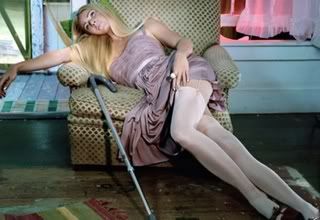 I really hate it when my internet connection goes down. How much longer am I going to have to wait to get on-line? I've already called the cable company three times and I keep getting the same message that they are "working on it." Liars! What did I do with my time before I got that Geek Squad guy to slip me a free computer and started blogging? Oh yeah, I watched
Jerry Springer
. Where's the remote?
7:45 P.M.
That's a good girl, Shirley! Go do your poopy on the neighbor's lawn. Right by the front door so he can see it and possibly step in it first thing, when he leaves in the morning. That's right.....good girl! Mommy is going to cook you up some homemade dog biscuits right after I finish watching
Josie and the Pussycats
on TV Links.
10 P.M.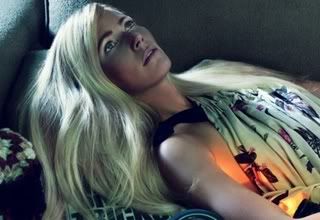 Time for bed. What a long, boring day, but at least I looked fabulous as always. Wow, I'm really loving this new
Creme de la Mer
firming night cream. It was expensive but worth it. It's really firming my skin right up!.....but....wait a minute, it's too firm. I can't move my face......not even to blink! Did Tucksworth put Superglue in my face cream again? I'm going to kill that monkey!!!!!