Let's get one thing straight. I, Prunella Jones, AM the star dancer and main attraction at
Classy Earl's House of Class and Tits
. Everybody knows this.
It took me the last few months to claw my way back to primo headlining status after being forced to leave
The Boobie Barn
(in order to
avoid getting my ass kicked
), and I don't take kindly to impudent little jailbait upstarts trying to knock me off my pole. I am not going anywhere!
Right now I am making top bank with my Sarah Palin impersonation. Have I told you guys about it? It's really sweet and so totally easy. All I have to do is pile my hair into a big bun (with a little help from Bump-It hair volumnizer, I just know she uses this product), slip into a slutty stewardess looking suit with some thigh-high stockings, and plop my purple schoolmarm glasses - seen in the pic below - on to my nose.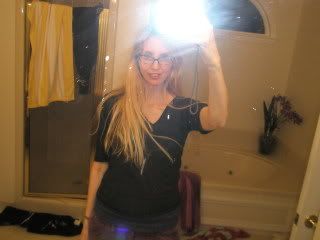 The better to see you naughty little mavericks with, oh yes!
Then when the DJ says, "Everybody make some noise for the sexy Saraaaaah!" I come out, winking and mugging, and slowly peal my clothes off to the song "Barracuda" by Heart while everyone goes wild.
After I get naked, I just have to toss out a few, "you betchas" and "doncha knows" and "quit staring at my Trig-feeders, you dirty libs!" and the cash money flies towards me. I can't keep up with all the lap dance requests. Even the die-hard Republican's love it.
This is as it should be, of course. I was put on this earth to be a superstar.
That's why the new dancer at work better watch herself.
Puh-leaze. Who wants to see her shake it? Besides Pedo-Bear I mean.
Just look at this boring little hillbilly. Who is she trying to kid? Get this, she calls herself, "MileyCyrus" - what kind of stripper name is that I ask you? And honey, the skanky, Lindsay Lohanesque, kinderwhore shorts wearing, grinding-on-an-ice cream-cart while lipsincing to "Sugarwalls" has been done to death. It's so 2002.
Besides, it attracts all the pedophiles and everyone knows they are terrible tippers. Not to mention being really, really creepy.
As opposed to the run-of-the-mill, only slightly creepy horndogs we usually attract, I mean.
Look little girl, I'm thinking it's about time for you to pack up your zit cream and leave the ass shaking to the pros, mmkay.
Classy Earl's
may be a big place but I'm afraid it's not big enough for the both of us. Remember what happened to Britney Sue Spears when she tried to horn in on my popularity?
Oh, that's right. You were probably still in diapers then.
Well, let me let you in on a little secret, sweet 'ems. You know that douchenozzle she married and reproduced with, KFed? Who do you think introduced her to him? Hmmmm?
That's right, it was me. I'm ruthless, honey. I'll do anything it takes to stay at the top of this business. If you continue trying to (finger quotes) "out-sexy" me on the stripper pole, then you may as well consider yourself served.
It will be so on!