All right, let me finish telling you what happened on my trip. After the disappointment of not selling the J.J. pictures, I decided to cheer myself up by doing a little shopping. Well no sooner did I walk into Forever 21, when along came Britney Spears with her faithful dogsbody, Cousin Ally. She swept through the store, pulling every size 0 off of the sale rack and ordering the staff to bring her a Red Bull, Frappachinos, and some Jolt cola. I was really aggravated as she totally snatched the green and purple plaid pleather hot pants I'd been eyeing. Plus I was still smarting about losing all that money. I decided to wreak my revenge.
Winking at Ally, I grabbed the venti Mochachino she'd just bought and emptied 30 quick dissolving laxatives into it. Lucky thing I always have laxatives with me. How else do you think I stay so thin?
"Here you go, hon," I said, passing the explosive drink to Britney.
She immediately sucked it down. "Oooo that was good," she said, with a loud burp. "Go get me another one, pronto! Oh and something is wrong with this here pair of shorts," she said, throwing the lovely plaid pair I'd coveted at me with one meaty arm. "They are, like defective or something, go get me another pair!" I held them up and saw that she'd busted the zipper AND ripped them up the back while trying them on. I burned with rage. Suddenly it occured to me that I had my RAZR with me. Honestly, sometimes I am so slow!
"Oh my God!" I yelled. "Is that Justin Timberlake over there?"
Brit yanked back the curtain of the dressing room wearing nothing but a bikini bottom, "Where? Where?" she pleaded, looking around wildly.
SNAP!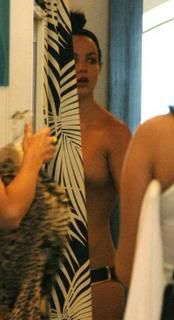 Once I got out of the store, I called up my new friend at STAR Magazine. "I've got a photo for you! It's a Britney Spears nip slip," I gloated. "And her boob looks like a deflated beach ball! That's gotta be worth some big bucks, right?"
"Oh brother," the editor snorted. "Don't you know that naked Britney pictures are a dime a dozen? Boobs, vagina, we've seen it all. Look, I'll buy them from you so you'll quit calling me, but they are only worth ten dollars."
"Ten dollars?" I asked stunned. "Is that really the best you can do?"
"Okay, okay," she sighed. "Ten dollars and a coupon for a dollar off at In-N-Out Burger."
"Sweet!" I said. I love In-N-Out Burger.
"Oh yeah," the editor said. "I just remembered that we haven't gotten a good shot of Brit's bunghole yet. If you bring me one of those, I'll pay you $25."
"No problem," I said, and hung up. But then I remembered the laxatives. Damn! I knew she was far more likely to spend the next few hours sitting down rather than bending over, but I decided to hang around anyway. I mean, with Britney you never know.