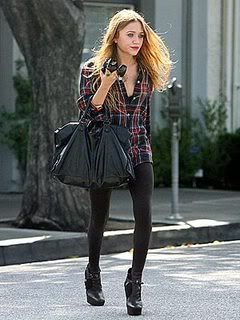 I was at a party recently and two very drunk people told me I looked like Mary Kate Olsen. At first I was insulted. I resemble an anorexic, midget, kinkachu monkey? But the more I thought about it the more I saw the similarities. Really it's amazing! We are like one person. Check it out:
We both have long, scraggly hair, always in need of brushing.
We love to wear hooker heels.
We are quite small boned and thin, or at least I would be if it weren't for my ginormous implants and layers of flab.
We are chainsmokers- she likes Marlboro Reds, I prefer the stuff I grow myself.
We are both fashionistas who set trends wherever we go.
We like drugs. She (allegedly) loves the cocaine, while I enjoy snorting my Zoloft. We are both addicted to Starbucks.
We enjoy lining our eyes with kohl and pushing our full lips out in a simian pout. We never, ever show our teeth when we smile because we are cool like that.
We were born to entertain. She is an actress, and I shake it three nights a week at The Bikini Room.
She is a multi-millionaire, while I --- okay, I guess that's where the likeness skids to a halt. Plus I don't have a twin sister, and I've never been to rehab (although I'd love to go, it's so trendy right now) and I wasn't a child star. And at 5' 9 and 1/2, I am about a foot taller than Mary Kate. Otherwise we are dead ringers!