So I took a quick trip to Los Angeles this weekend with my lover, world famous tattoo artist Sascha Von Blaubart. You may know him better as El Hombre. We were just leaving LAX when we ran into one of my all time favorite celebrities, Kevin Federline.
"Yo Kevin, what is up?" I greeted him, thrilled, and asked him to autograph my boob. He seemed a bit down, and shook his head when I asked him if it was true that he and Britney were getting back together, but perked up immediately when I introduced him to El Hombre. Guys always start babbling about their dream tattoo whenever they meet El Hombre and Kevin was no exception. I gathered he was interested in inking Britney's bald-headed, umbrella rampage on his back with the word "certifiable" written in Old English style lettering. Hombre just nodded and yawned and tried to sneak away. When Kevin invited us back to his place for beers, I quickly accepted and glared at Hombre when he muttered something about my "bullshit, fake-celebrity obsession."
"Come on, it's for the blog," I hissed. "Just give it ten minutes?" I was dying to go check out Kevin's crib. Hombre knew I would be livid if he said no, so he grudgingly acquiesced. The man is a saint.
I was impressed by how huge Kevin's house was, but not so impressed by the decor, which consisted of wall to wall purple shag carpeting and black velvet paintings of marijuana leaves. While Kevin and Hombre discussed tattoos, I wandered around, pretending to admire Kevin's beer can collection, but mostly snooping. .I noticed KFed's young sons with Britney were visiting, and all of a sudden it hit me. No one had gotten a clear shot of baby J.J. yet. And I had my camera/phone with me.
Ka-ching!
I glanced around for a nanny or bodyguard or someone who might stop me, but I didn't see anyone so I snapped away. A few minutes later, when little Sean P. nearly drove over his brother in his mini Cadillac, I grew concerned. Who was looking after the kids?
Sean Preston right before he ran over my toe. Ouch!
The nanny, where I finally found her.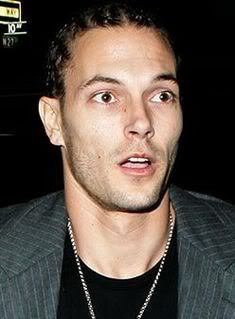 Kevin, after I told him about the nanny.
As soon as we got out of there, I made a phone call to Star MAgazine. "I've got the first clear pictures Jaden James Federline for you," I crowed. "I know how valuable these are but I'm willing to settle for something in the high six figures."
The photo editor let out a wheezy laugh. "Sorry, hon, but you've been scooped," she said. "Britney just sold a picture of J.J. this weekend. It's all over the place. Your pictures aren't worth anything." Then sounding very much like Nelson from "The Simpsons" she said "Ha, ha!" and hung up. I raced over to the nearest magazine stand and found out it was true.
Can you believe my luck? After waiting all this time, Britney decides to show off Jaden James mere hours before I could have made some serious bank! Damn!
Well even though I won't be getting any money for it, I figure that you, my dear readers would be interested in seeing the picture. So here it is, my friends, my photo of the youngest Federline kid at his home.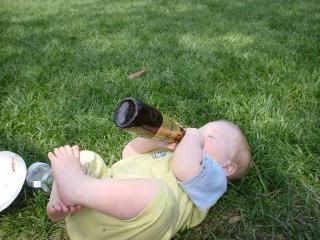 Cute huh? I think he favors his mother in this picture.
How was your weekend?