Whew, I'm finally back from Stripfest 2007! I had a good time, but it was very exhausting. We had a good group of people this year and they all wanted to party nonstop after the classes. I am still trying to recover.
My lectures went well. I was a little nervous at first since I'm not much of a public speaker, but everyone was so enthusiastic and nice that I relaxed pretty quickly. Well, after the valium kicked in anyway. I have a couple of pictures for you.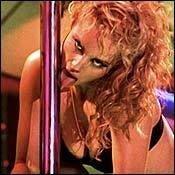 Here I am demonstrating the proper way to lick a pole.
This Britney Spears look-alike got very drunk and puked all over the dance floor, just like the real Britney. We all laughed at her.
This guy showed us how to make dancing in tennis shoes and socks sexy. He pointed out that socks are a great place to hold tips. I'm going to try it sometime. Let's face it, 8 inch acrylic heels just aren't comfortable.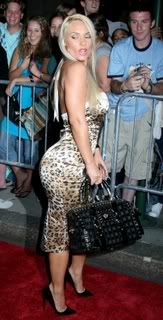 My nemesis, trying to work a Ver-sayce dress. As if!
Do you recognize this chick? Her name is Deelicious Diamond and she thinks she's famous or something. I consider her my arch enemy. You see, I am the star dancer at "Classy Earl's House of Class and Tits" and I've worked my ass off to get where I am. This bitch just got hired a few months ago and she's been trying to steal my spot ever since. Why, just last month she tried to push me down the stairs when I was getting ready to go onstage! Luckily I've studied Brazilian ju-jitsu for several years so I have reflexes like a cat. She ended up falling instead. I was really hoping she'd break an ankle or something but she landed on her butt implants and wasn't hurt at all.
I was all, "Nice try, whore!" (For some reason she goes nuts everytime someone calls her a whore.) She shook her fist at me and said she'd get me sooner or later. Now I'm constantly having to watch my back. God, there's always someone younger and hungrier coming down the stairs after you!!