Do you ever notice how as soon as you get rid of one problem, abother one pops up to take its place? Now that the weather has improved
slightly
here in Nashville, I'm having a problem with my pet monkey, Tucksworth. You may recall me mentioning Tucksworth once or twice. He's the trained helper monkey who throws the knives I catch in my teeth, as I hang upside down on a pole for my burlesque act down at "Earl's House of Class and Tits." He also sits on my shoulder while I give lap dances, to make sure the customers don't get too grabby. He's very good at his job and everybody loves him. Well, everyone that is except for my boss, Big Earl.
Big Earl has had it in for my monkey ever since Tucksworth snatched Earl's toupee off of his head and threw it at the buffet table. It landed in a pot of Egg Drop soup and was ruined. Big Earl was really pissed. He nearly fired me, but the girls had been bugging him to go get a lace front weave anyway, so everything worked out.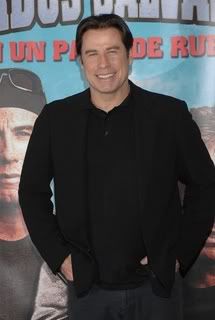 Here is a pic of Big Earl with his new weave. Notice the picture of him painted in the background? Those are all over the club. He's very vain.
Anyway, even though Earl loves his new hair, he still dislikes Tucksworth. And Tucksworth hates him too. You see, Tucksworth is a bit of a diva. He got his start playing the "Sprockets" monkey on SNL, and feels like he should be treated like the star that he is. Earl is constantly calling him names like, "shithead" and "turd flinger." I've asked him not to many times, as it upsets Tucksworth and the last thing I need is angry monkey throwing knives at me, but he just sneers. He's such a jerk! I knew something bad was going to happen.
Things finally came to a head last week. I was sitting at the makeup table, drawing on my eyebrows when Earl walked in to the dressing room.
"Get your ass in gear, Prunella," he barked. "You and your ugly, disease ridden little varmint are on in ten minutes."
Well I guess Tucksworth couldn't take it anymore. He gnashed his teeth, unleashed the loudest monkey scream I'd ever heard from him, and flung poo at Earl's head.
"Okay, that's it!" Earl yelled, his face the color of a boiled lobster. He was so mad, the vein in his forehead was pulsating like a drum skin. He grabbed the monkey by the neck and tried to strangle him. He very nearly succeeded, until Tucksworth managed to bite Earl's hand hard enough to make him let go. Those sharp little simian teeth nearly severed a fingertip!
Tucksworth has always been a bit of a boozehound. He especially loves martinis.
Earl said the only way I could keep my job was to get rid of Tucksworth. Since I owe thousands in credit card bills and student loans, I have sadly decided to leave him at home. He's gotten very depressed and has been drinking everyday. It probably hasn't helped matters that I've been going through a hippie phase larely and have been playing my Grateful Dead CDs over and over. I can't help it. I love "American Beauty."
Tucksworth hates jam bands. He prefers rap, and club music like The Black-Eyed Peas. (He does an amazing Fergie impression. Really he can look just like her!) But nothing, not even listening to "My Humps" can cheer him. All he wants to do is drink, and watch Animal Planet all day until he passes out. I'm really getting worried about him. I've tried hiding the booze, but it makes him go crazy. He runs wildly around the house, hooting, and throwing dishes, and spitting in my hair, until I hand over the Gin bottle. (Monkey spit is really hard on the weave.)
So what should I do? Send him to rehab? I don't think he would go. He thinks rehab is for quitters. Would any of you bloggers out there like to take this alcoholic monkey off my hands? When not depressed he has a good personality and as you can see from his photos, he's very cute. He gets along well with other pets and he's quite talented at throwing knives.
Anybody????