Yesterday while I was engaged in the hopeless task of straightening up my home office, it occured to me that I have way too many books. My two bookcases are crammed full, and there are also little piles of paperbacks scattered everywhere. Most of them are from thrift stores and bargain tables, and I've probably only read about half of them. Or maybe less than that. I tend to be a hoarder when it comes to books, though I'm too ADD to read them all the way through. Plus I like having plenty to choose from. But in the interest of cleaning out this stuffy, little room, I decided to sort them out and make a pile to get rid of. Good grief, I have some weird stuff! Here are a few books from my collection:
1.
Rats and Lice and History
by Hans Zinsser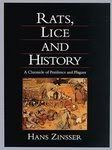 What it's about
Rats, lice, typhus, the Roman Empire, hideous plagues, etc.
Why I bought it
Come on, who could resist a book about vermin? Besides it was only fifty cents.
How much did I read?
A few pages here and there. It's very dry and academic. But certain passages (like the gross details of just what plague does to a person) will definately burn themselves into your brain.
Random Excerpt
The louse was not always the dependant, parasitic creature that cannot live away from it's host. There were once free and liberty loving-lice, who could look other insects in their multifaceted eyes and bid them smile when they called them
louse
."
2.
The Gaylord Hauser CookbookWhat it's about
Healthy cookbook written in 1946.
Why I bought it
For the section titled, "How to Serve Brains Attractively." And for the lima bean pudding recipe. Yum!
How much did I read?
The whole thing, baby! But I have never made any of the recipes.
Random excerpt
"Minute Prune Sauce- Fletcherize together 1 cup of unsweetened grapefruit juice, 1 cup of soaked dried prunes, and honey if desired."
3.
Car Living Your Way
by A.J. Heim
What it's about
A how to guide for people who want to (or have to) live in their cars.
Why I bought it
Hey, you never know. I like to be prepared.
How much did I read?
I've skimmed through it. Although I did read the entire section on "Feng Shui for the Car."
Random Excerpt
"I favor peeing in a wide mouthed jar, and having a simple bag in which these jars are conceled for carrying purposes," explains Joanne Baek. "If glass, I favor a sock pulled over the jar to decrease the chances of accidental breakage if bumped. Dirty undies can go in the same bag, and if the jars are appropriate, one can dump the pee in the toilet, rinse the jar, then half fill it with water, add the dirty panties, and shakey, shakey for a daily mini-washing-machine thing."
4.
Rolling Away: My Agony with Ecstacy
by Lynn Marie Smith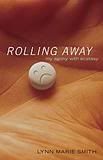 What it's about
Some chick who couldn't handle her drugs.
Why I bought it
It was on the bargain table. And I have fond memories of the anti-drug books, "Go Ask Alice" and "Christiane F." because they piqued my curiousity more than they warned me off. Eat it, Nancy Reagan!
How much did I read?
About 3/4's of it before I threw it against a wall. This bitch really got on my nerves. What a whiney baby! Just because she couldn't hang she has naturally decided that ecstacy is the devil for everyone. And her poetry sucks ass.
Random Excerpt
"I watched the paper soak up my teardrops. I folded it and put back in my bag. I wiped my eyes as the bus began to move. Mason was the only person who understood me in this world. He knew me at my worst, and still loved me. Now I had to work on loving myself."
5.
Moby Dick
by Herman Melville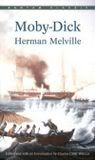 What it's about
You know, big whale, obsessed captain.
Why I bought it
I've been trying to read this book for the last two years. It's a classic, I can relate to tales about obsession, and I enjoyed the movie. Plus "Pequod" used to be my password for nearly everything.
How much did I read?
I'm still trying to get through chapter one! It's not exactly ADD friendly. In fact, I'm ashamed to admit that I mostly haul it out whenever I have trouble sleeping. It works better than Sominex for me.
Random Excerpt
Call me Ishmael. Some years ago - never mind how long precisely - having little or no money in my purse, and..............zzzzzzzzzzzzzzzzzzzzzzzzzzzzzz