How many times have you looked at yourself in the mirror and thought, "Damn, I'd be hot if it wasn't for these annoying wrinkles and the fact that I weigh 300 pounds?" Well get ready America, now you can do something about it.
From the makers of Blarghballah water comes an exciting new product for summer 2007.
Botox Water!
Just a few sips a day will effectively paralyze your lips into a sexy pout, leaving you incapable of frowning
or
eating.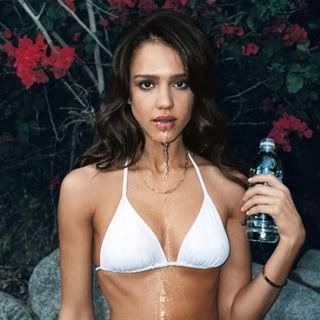 Celebrity spokeswoman Jessica Alba:
It burns and I can't feel my mouth, but who cares? It keeps me slim and wrinkle free! Thanks Botox Water!
Q: If your mouth is paralyzed will you still be able to talk?
A: Who needs to talk when you look this good?
Q: Isn't Botox made from a deadly poison?
A: What's your point?
Botox Water! It's like plastic surgery and having your jaw wired shut all rolled into one delicious thirst quenching drink. Pick some up today!