Guess what everybody? There's a rap contest going on at the new Blarghbalah Center! First prize is a case of Blarghbalah water and a fabulous all expenses paid vacation to the beautiful Lake of Entrails, on the second level of Blargh! Let's take a look at some of the competition, yo.
I say there...um dogs
I..I'm...they call me the primo cut
Gi-gi-giggity-Grant, the MacDaddy, what is up?
I say good fellows, fall to your knees
Because my name is Hugh Grant and I'm the big cheese
I am here to make you dance and jump
So get on the floor and shake your great big rump
My word! I haven't seen a rump that Divine
Since I was trolling for hookers on Hollywood and Vine
Yes, Miss Brown's bottom was particularly fine.
Shake it, shake it, shiggity shake that fine bottom!
Well all the paparrazzi in the house say "yo!"
Do you think you are going to take my photo? Oh no!
I'll hurl these beans at your asses, fo sho!
Good sirs, there are a few beatings I'd like to bestow
Come feel the wrath of Hugh Grant's big toe!
Word!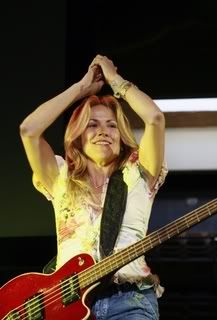 Listen up, ya'll! My name's Sheryl Crow
and I'm here to let you know
that saving the earth's my obsession
so I'm gonna use this jam session
to ask ya'll a question and here it is, yo
Why you gotta use so much TP?
what, do you think it grows on trees?
I do decree you only need one sheet
to wipe the poo off of your big fat seat
Two sheets at the most should be complete
If it takes more than that, why just quit eatin meat!
vegetarian poop is much easier to excrete
and won't make such a mess on your butt cheek.
Now some people might call me a hypocrite, but take heart
True, I do drive gas guzzlers but I need them for my art
It has come to my attention, that some bloggers gots aggression to me
but there's no time for second guessing, the earth needs my secret weapon
in order to save a few more trees
instead of napkins we'll use hanky sleeves!
Huh? Huh? Huh? Good idea, right?
Well some people call me Prunella
and I'm here to tell ya
that the glorious day of judgement is now at hand
Blarghbalah is the new movement sweeping 'cross the land
Don't worry 'bout my eyeballs, it's just a bum thyroid gland.
If you don't join the cult of Blargbalah
then you must like to be be an ignoramous
our fitness is so ridiculous, yup, we're getting so world famous
number one religion on the planet of Uranus! Yo!
So why you hesitatin to join? Why you act so appalled?
Look at me, I'm pretty in pink just like Molly Ringwald
Listen up, I don't wanna hear your disdain
why don't cha quit doing cocaine, and acting insane
Join the cult of Blarghbalah so you can rest your brain
Now I ain't no entrepreneur, I'm just tryin to cure ya
Handin over your wallet will help to secure ya
A much less harsh judgement, of this I can assure ya!
Sign up bitches, word.
Won't you come on down and join our rap contest today?
Don't be shy or delay
everyone can play!
Let me hear what you have to say!