Beautiful pop princess Britney Spears is as well known for her constantly changing hair looks as she is for her music. Unafraid to experiment, she has sported several different colors and lengths, often on the same day. So how did the "Toxic" singer achieve such luscious locks mere months after shaving her head? I sat down with
Carleen Sue Washington
the woman responsible for Brit's new sultry blonde bombshell look, to find out.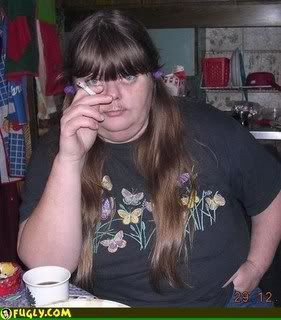 So Carleen, tell us a little about yourself. How long have you been a hairdresser?
Well I reckon I been doing hair for about twenty sum years now. I've always been good at fixin my ownself up, so after my second husband went to jail and I was left to raise up my son Winston Salem Junior all alone, I decided to make myself some money doing what I was best at. Course I don't have a license or nothin. They want you to go to school for that. Which is silly in my opinion. I'm already an eighth grade graduate! No, I do hair right here in my kitchen. My clients love it cause I don't mind frying them up some liver and onions for lunch while I'm perming their hair.
What's it like to work with Britney?
Why Britney is just the sweetest thing in the world! I don't know why people want to be so mean to her and say she's a drug addict. Who hasn't done a little meth here and there? Just cause she's a mama don't mean she cain't have no fun.
Right after she shaved her hair off she called me up a crying. She said, "Oh Lord, Carleen Sue, I done shaved my hair off and everyone's a laughin at me." And said to her, I said, "Britney honey, don't you worry about a thing. You just keep a wig on your head for a bit. Ain't nobody will even notice. And once you git about two inches of fuzz, I'll bleach your scalp and tie you up some extensions and you'll be gooder than ever!" And she was so dadgum relieved to hear that.
For the fans of this new look, how much will these Britney style extensions cost them? Are they very expensive?
Well yes, they are pretty expensive. They will run you about forty dollars. But that's only because they are 100% barbie doll hair. I always say you gotta pay for quality. Britney understands that.
Thank you for speaking with us, Carleen. Where is your home business located?
I'm right off the 91 Freeway at the Budget RV in Rubidoux. Trailer number six. Cain't miss it. My son is usually playin his banjo on the front steps.