"Oh boy. Here I am in the big city, ready to make my dreams of being a boss lady come true! I can't wait to be one of them executives so I can wear purty suits and make out with businessman types who wear glasses and stuff."
"There it is. The place Clem said would hire me. I'm so nervous. I wish I could remember what Oprah said to do on her show about the secret to being a success. Maybe I should pray to her......Oh great goddess Oprah, please help me nail this job interview!"
"My child
the secret
is soo easy. You can get whatever you want if you just visualize it hard enough. Anyone who is unsuccessful, poor, or hungry deserve what they get because they are blocking success with their Negative Nelly thoughts. Do you know what I teach my girls at The Oprah Winfrey Leadership Academy?"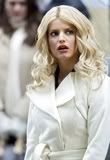 "Ummmm.....smile wit yo eyes?"
(sigh)...."NO! That's Tyra! I tell them: Don't blend in, blend out! Now go in there and get that job!"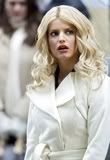 "Okay......blend in my makeup. Right! Thanks, Oprah! Here I go to conquer the business world."
"Welcome to Burger Barn. Can I take your order?"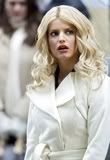 "Hi, my name is Jessica and my cousin Clem said you'd hire me and I'd get to be in charge and stuff!"
"Oh right, Clem did tell me about you. Said you're really talented....(snicker). Tell you what...I'm already in charge of the fries but if you go in the back, Chuck will hook you up with a uniform and give you your assignment. Right through that door."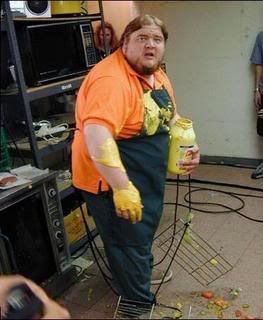 "Huh? What? Oh yeah, I guess you can be in charge of the trash. Just leave the mustard alone. Only I handle the mustard, got it?"
"Wait a minute...I didn't visualize this. This sucks! Oprah, help me! Oprah....Oprah!"