Dear Friends,
I'm so sorry I've been such a rotten blogger buddy lately. I didn't mean to stay away so long but the simple truth is that I time traveled back to the fifth century to do some research on Vikings and they won't let me go. I am presently being held captive by a warrior prince named Big Eric the Woman-Satisfyer. Now don't worry about me, I've got an escape plan all figured out but it's going to take some time. I thought I would "exhaust" Big Eric, and then sneak out while he was sleeping but the man seems incapable of fatigue! Must be all the rare red meat he eats. But I don't need to rescued or anything. Really, don't even think about trying! I'll be back....soon. Until then I've asked my cousin Edith to fill in for me. I told her to do a gossip post since I haven't done one in ages. Edith is kind of annoying. She's one of those academic snobs who never want the world to forget that they went to a good school and have a doctorate while I, Prunella Jones do not. Humph! Well anyway please be nice to her while I'm gone.
Love,
Pru
P.S. Actually scratch that last part.
Gee thanks, cousin, you are too kind. Hello everyone, my name is Edith and I'll be helping out for a bit while Prunella extracts herself from the land of the Vikings (takes her medications). Anyway I don't pretend to know too much about Hollywood gossip, it's not something I'm all that interested in quite frankly. When I was at Harvard I began each day by reading three newspapers cover to cover and I've kept up that habit throughout my academic career.
Prunella is a sweet girl and I do love her, but it's such a shame the way she turned out. I mean she works nights at a topless bar and spends her days writing trashy purple prose! I know she is quite jealous of my work as a poet. It's too bad she spent so much time in high school ridiculing me for being a dateless grind instead of studying. Maybe then she could have gotten a full scholarship to Harvard as I did. Oh well time for a post.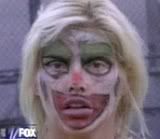 I'd like to write something about the sad, sad death of Anna Nicole Smith.
Calamitous Clown
Oh Death!
why didst thou lugubrious spector
attack one so fair
and child hearted
swept away in a pharmacological tide of despair.
Oh Death!
Why not spread thy wings further still
for the patriarch of Anna's wretchedness
a spouse whose heart is encased in formica
and an infant cries out from her hippodrome of misfortune
Oh Death!
Isn't it rich? Isn't it queer?
Send in the doomed clowns
don't bother. They're here.
Well that was fun. I must get a cup of tea and I'll be back with some more poetry for you. And I'll come pay a visit to all your blogs as well. See you soon!