I'm watching you.
Let me tell you a tale that begins right here
in a house in Tennessee
about a plucky, scruffy, tiny cat
by the name of Lil' Stripeyhead Lee
and this kitten she lived with no other thought
than to eat Friskies and scratch at her fleas.
Till the day that my mother decided to come
to my house in Tennessee
and bring with her a cat who is hideously fat
and bad tempered to the highest degree.
This cat's name is Mae and she's older than dirt
and therefore not terribly pleased
to make the aquaintance of another feline
especially one covered in fleas.
Stripey was thrilled, from the first, to meet Mae
and she sniffed her new friend with glee
"I love you, let's play!" she seemed to say
while sharing her
Chicken of the Sea
.
But day after day, refusing to play
the old cat would smack her and flee.
Yes, day after day, the old biddy named Mae
rejected these friendly pleas.
Hissing and pissing on Stripeyhead Lee.
But this little furball, for one so small
is determined to a remarkable degree.
And she will not rest till she succeeds in her quest
to make Mae her playmate it seems.
"Love me!" she cried, "I will not be denied!
Quit trying to run off and flee.
From my love you will never be free!"
Sniffed Mae, "Get away from me."
Now a day won't go by that I don't hear a cry
from the frustrated Stripeyhead Lee.
And the sun never beams without bringing me screams
from the pissed off Stripeyhead Lee.
And as much as she's tried, Mae just cannot hide
from this kitten, this kitten she must live beside,
in a house in Tennessee
with this stalker named Stripeyhead Lee.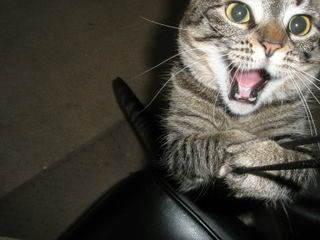 Love me, bitch!"
Halp!