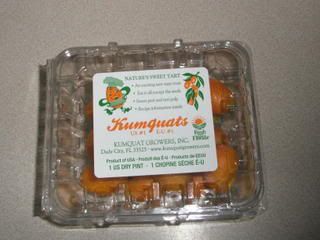 Ever tried them? These little suckers are delicious. They are like little tiny oranges that you can pop in your mouth and eat, peel and all. It's a very tart/sweet taste. And I love the name kumquat. It sounds like some sort of pelvic exercise, doesn't it?
"After having a baby, Jan did fifty kumquats a day to tighten up."
Or it could be used as a term of endearment.
"Come to me, my little kumquat."
Or maybe I'll use it as an alternative to cursing.
"Oh kumquats! You kumquating beeyotch!"
Hmmmm. Okay, I don't really know where I'm going with this. Oh well, what else is new, huh?