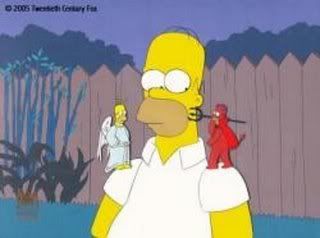 Do you ever feel like there is a devil on your shoulder urging you to do bad things? I have one of those. He looks like Richard Dawson from the 70's when he was on that show Match Game, except with devil horns. It's so damn hard to resist Richard. For one thing, he has that charming accent. It always makes whatever foul thing he's suggested sound perfectly reasonable, almost a shame not to do really. And he calls me "luv" in that cheeky way of his. He's just so good at wheedling.
For instance, this morning he recommended that I chop up and snort my daily Adderall pill.
"Go on then, luv," he said with a grin. "You've been good for quite a while now. You deserve to have a little fun."
"Quit it, Richard," I said, uncomfortably aware that the very thought made my heart pound with anticipation.
He knew he was getting to me and pressed his advantage. "Well just swallow a couple more then, three or four. One won't do anything much. You need it. You're very muddle minded lately."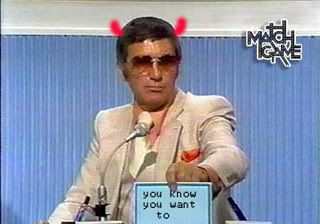 Tell me, could you resist a suave motherfucker like this?
I'll admit I was super tempted. I opened the bottle and stared with longing at those gleaming orange and white pills. I poured out four and held them in my hand, considering.
But luckily I have an angel on my other shoulder who convinced me to only take one by shaking her head and giving me a stern look. She doesn't always win, but she did today. Thanks, babe.
My angel. She has her work cut out for her.
By the way, if your cable carries Game Show Network then I urge you to check out The Match Game. It's so amazing to see the stars smoking while they play the game, and the humor is so naughty. I swear the other day I saw Betty White give Charles Nelson Reilly the finger.