Owning a monkey is a big responsibility. It's a lot of work to keep them healthy and happy. They are like children, really. I guess it's been awhile since I've blogged much about Tucksworth, the pet monkey who used to assist me with my exotic dancing act. As you may remember, he's been very unhappy since I've been
forced to leave him home
. Poor Tucks loved getting dressed up in his little tuxedo and performing, even if it was just in a skanky gentleman's club for an audience of drunken frat boys too busy throwing up on each other to pay much attention. With nothing much to do all day besides terrorize the dog he turned to alcohol, and when the vet put him on Antabuse and he could no longer drink, he became a
total pothead
.
I guess I should have put a stop to it right away, but I was feeling pretty down myself for a few weeks. Tucks and I spent most of the month of December curled up on the couch smoking weed, eating pizza, and watching reruns of Friends, and every trashy show offered by VH-1. (We both enjoyed Rock of Love BTW. Heather was robbed!) Even though it wasn't exactly happy time, it was nice to hang out together. I felt like the two of us really bonded. I promised him I would find a place where we could perform together again, and he agreed to quit slipping cat turds into my mom's oatmeal. Things were boring but peaceful.
That is until my pot dealer's parents got divorced and he had to move to Atlanta with his dad. Now that he's gone I don't have any connections and Tucksworth is bummed. Seriously bummed. Nothing has worked to cheer him lately, not even visits to the zoo to laugh at the caged monkeys which he normally loves. He wouldn't even get out of the car. He just sat there in the back seat, fondling an empty packet of Zig Zag rolling papers. I knew I had to do something. I couldn't take his baleful stares anymore, not to mention the way he'd been shitting in my bed.
So anyway, yesterday I took him to the vet who prescribed Prozac and more Antabuse to keep him off the sauce. It's expensive but very necessary since I can't find any marijuana. A stoned monkey is a mellow monkey, but Tucksworth is a really mean drunk. The last time he went on a bender he broke every dish in my house and shaved a swastika on the back of the neighbor's cat. They didn't appreciate that as you can imagine. The neighbor lady still flips me off whenever she sees me.
Gah, it is so hard to deal with an addict! I thought we were having a good day but I was wrong. Here is what happened. We got his scrips, along with my Adderall filled at Target and then stopped by the video store to rent some movies. Tucksworth refused to take his medicine unless I bought him some Captain Crunch cereal so I swung by the Kroger on the way home. As we walked into the store I noticed he was looking a little glassy eyed and sweaty, but before I could really examine him we ran into the one person I had hoped to never see again, Britinia.
Remember her? The terrible dancer who made me leave
Classy Earl's House of Class and Tits
? Damn, but I hate her! Working at
The Boobie Barn
has been so humiliating! I itched to slap her smarmy little face. Instead I just nodded at her and turned to walk away as I have good manners, unlike her hillbilly self. Everything would have been fine if she hadn't decided to ram her cart into mine and confront me.
"Hey you, bitch!" she scowled. "Yeah, I'm talking to you. I heard you been sayin things about me around town what ain't true. You been spreadin lies that I'm the one what contaminated the stripper poles at Earl's with pubic lice. That wadn't funny cause it ain't me I swear! Now all the other girl's keep spraying Lysol on me!"
"I don't know what you're talking about," I said, giving her my best disdainful look. "You're crazy."
Tucksworth was starting to get really agitated. He began jumping up and down in the cart and hooting.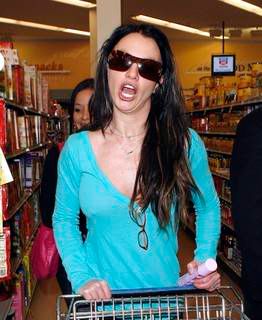 Britinia, thrilled to see me.
"Don't you call me crazy," she said, getting right up in my face. Her cigarette breath was awful and up close I could see her teeth were orange with crusted cheetos. "I'm the best dancer in town. Everybody loves me, while you're just a scrawny loser with a monkey who stinks! Why don't you put a diaper on that thing?" She gave me a small shove which sent me reeling backwards. I am basically pretty wimpy and Britinia has the strength of ten loonies. It was looking bad for me till Tucksworth jumped in between us, chattering and screeching and acting really wild.
"Ewwwww," she taunted. "You think you're so hawt, Prunella, but you cain't even get you a smart monkey. This here one is a retard!"
I guess it was that last insult that did it. Tucksworth can't stand to be made fun of. With a high pitched cry he flung himself at Britinia and started attacking her weave in a frenzy, pulling out fistfuls of hair.
"Aaaaaah, get it off a me!" she wailed. I tried to grab him but Tucksworth was incredibly worked up. He grabbed my purse and started beating her about the head and shoulders with it.
The manager of the store and several workers rushed over to us. "Miss, you've got to control that ape," he hissed as he struggled to capture the flailing monkey. Tucksworth easily evaded him and started running up and down the store screaming and throwing cans at the customers. "Does he have rabies or something? What's wrong with him?"
Good question. I couldn't believe what was happening. Sure, Tucks has his moments but he'd never gone berserk before. Usually he'll just fling a little poo when he gets mad and that will be the end of it. I winced as I heard glass shattering and what sounded like a few small explosions coming from the back of the store. What could possibly have caused this?
I got my answer when I spotted an empty prescription bottle of Adderall with my name on it on the floor. That little bitch must have snuck the meds out of my purse and downed the entire bottle when I wasn't looking. No wonder he was freaking out. He was on speed! Quite a bit of speed. I explained to the police and animal control people what must have happened but he'd already escaped.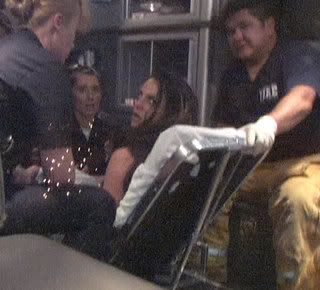 Britinia vowed to get me as the ambulance hauled her fat ass off.
Damn that monkey and his substance abuse!