2:00 P.M.
Ugh, morning everybody. It's a bright and shiny new year, isn't it? One of my resolutions was to start getting up earlier, and spend no more than one hour sitting around in my underwear, scratching myself and staring into space. Looks like I'm off to a great start!
3:15 P.M.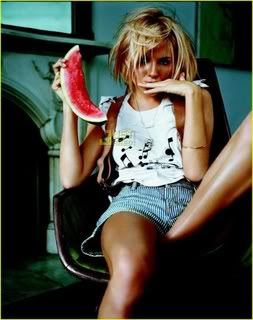 Mmmmm this watermelon is good. Not quite as tasty as a pop tart and a giant coffee from Starbucks of course, but healthy. I vow to be a much healthier Prunella this year. That means I'm going to stick to my vegan diet, exercise, quit drinking, and only snort Adderall once a week. Well, no more than twice a week. Okay, okay, three times a week but that's all!
5:30 P.M.
Time to do some chores. I hate having to line dry my silky underthings, but I've learned the hard way that you just can't throw $400 panties in the dryer. (sigh) Tucksworth, quit screaming in my ear. That guy with the binoculars peeking over the fence is just our neighbor Frank. Hi, Frank!
8:00 P.M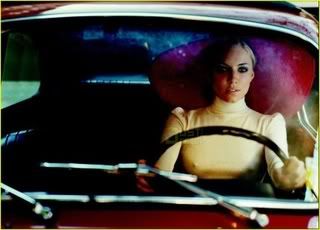 There is nothing more fun than driving around town in my hot little car. Weeeee! Too bad it's so cold today. Brrrr!
9:45 P.M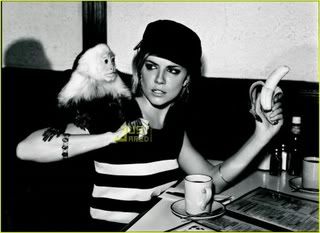 Now Tucksworth, behave yourself in this hipster coffee shop. No hooting, screaming, biting, or poo flinging, please! And back off this banana, it's mine. I ordered you a plate of chilli cheese fries and a Dr. Pepper. I know you have the munchies, but just chill out till it gets here.
2:00 A.M.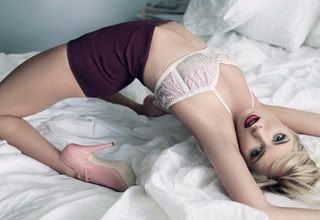 Early to bed and early to rise, keeps a girl from having cellulite on her thighs, right? Something like that anyway. I'll just do a bit of yoga first. I have to keep my back limber so it won't go out on me again. This posture is called "the bridge to paradise." I either learned it from the new Carmen Electra workout video or the Kama Sutra, I forget which.
Happy New Year!