Things are heating up over at The Boobie Barn. The crazy protesters are becoming louder and more numerous. They are really pissed. They want to shut down all the gentlemen's clubs here in town.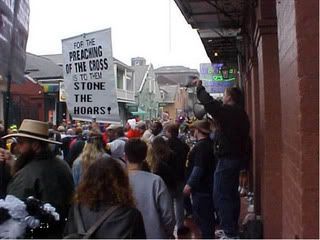 I find it ironic that I am now worrying about being stoned as I walk in the door to work, considering I usually have to get stoned in order to go to work in the first place. Isn't life strange?
Captain Peanut only made things worse when he gave a press conference declaring himself the King of Nashville. He said he won't be run out of business by a bunch of churchies.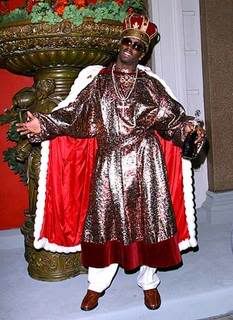 Captain Peanut in his kingly attire. What a moron he is!
One of the strippers from the nudie bar across the street started flashing the protesters.
This chick's nickname is Crazy Courtney. She's a tough broad. While she was baring her breasts, someone in the crowd chucked her upside the head with a carton of chocolate milk, but it didn't phase her.
The owner of the drag queen club, Janice's Cabaret, came out in support of The Boobie Barn. I was surprised to see Janice actually IS a woman. I thought she was a tranny for sure. Although, maybe she's just had some really good surgery.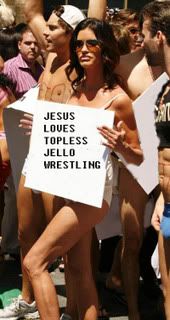 Janice swears she is a close personal friend of Tyra Banks, and that Tyra might do a show on us. That would be exciting. I've always wanted to be on TV.
I still want a new job, but I
really
don't want to work at Hooter's. I'm thinking of starting a business giving pole dancing aerobics lessons at home. Either that or I could take the job that my cousin, Larry the undertaker, offered me selling burial plots. Which of these sounds better to you?