So, I guess I haven't posted very much lately. I don't really have any good reason for not posting. It's certainly not because I've been too busy with my fabulous and fascinating life. Don't I wish! No, I've actually been behaving myself pretty well lately, doing my yoga, following my raw vegan diet without too much cheating, reading a lot of books, and trying not to spend money.
God, I'm dull!
See why I haven't posted? I'm even boring Tucksworth. That monkey no longer bothers to scream and fling poo like he used to whenever I would turn on my Wilco CDs and assume the Lotus position. Instead he just shrugs and goes back to terrorizing the cat.
But now it's 4:30 A.M. on a Saturday night (technically Sunday morning I suppose) and I feel like posting something, dammit! But what?
I was considering writing about the time I met Fabio, but that's kind of a dull story. He just shook my hand, and couldn't have been nicer. (He is, however, even more amazingly cheesy looking up close than you'd imagine.)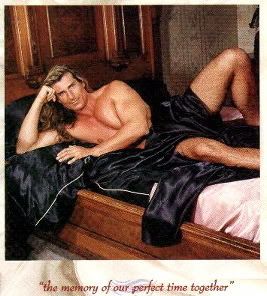 You can't believe it's not butter, can you?
I was just about to give up when I remembered Bottle Blonde's excellent post on
blogging 101
. If you've never been to her blog, please check it out. She's one funny chick, and gorgeous as well. Anyway, she urges everyone to post pictures of themselves and I agree with her. I don't know about you, but whenever I start reading a person's blog, I find myself wondering what they look like. I've kind of developed a mental picture of each of the bloggers that I read regularly, although I'm sure it's completely wrong.
I've been a bit shy about posting pictures of myself, but what the hell? It's not like I have to worry about being dooced. So without further ado, I present you with some dorky pics.

Take the friggin picture already!
Here I am at a family function, completely sober. I can tell I'm sober because I'm smiling my fake smile and looking oh so enthused. Plus, I remember being uncomfortable because I was wearing an ugly dress and barely any makeup. My mom has a cow about dressing appropriately for these types of things. She seems to think that if I'm dressed like a lady, I'll behave like one. As if! You would think she'd know better by now.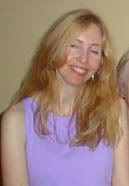 Just add alcohol and weeeee!
What a difference two hours and three glasses of wine make! Whenever I drink, I start getting a Paris Hilton wonk eye. Seriously, one of my eyes (usually the left) will bunch up into a squint like a pirate or something. Argggh, matey! It doesn't take much alcohol to get it started either. Two drinks and the eyelid begins its slide. I can usually feel it happening, but by that point I don't care. So many of my pictures have been ruined by that dopey squint.
My hippie hair, ass, and the hideous lamp that my mom just bought.
I took this pic because I was so happy to finally be able to fit into these jeans again that I had to document it. I've never had a weight problem, but these jeans were definitely getting too tight and I was developing a muffin top, much to my chagrin.
In case you've never heard that term, here's the definition:
Muffin Top
- The roll of fat that hangs over the top of too-tight, low rise jeans.
Now thanks to the mostly raw vegan diet and some ADD drugs, not only do the jeans fit again, they are even slightly loose. Yay!
If I had good photoshop skills I would caption that picture like one of the
LOLZ Cats
. I would make it say
I CAN'T HAZ CHEEZBURGER! I'Z VEGAN!
If somebody wants to do that for me, it would make me laugh. Those damn cats are hilarious.
And finally, I do have a photo of my rack if you want to see it. I took it when I was trying to get a good shot to send to Ms. Smack's "Guess the Blogger's Breasts" challenge. I think it's a pretty demure picture, but my nipple did pop up so I guess that makes it NSFW. I have thoughtfully hidden it just in case you don't want to see, but why wouldn't you? I know I enjoy looking at boobies. Mine aren't real big or anything, but they are spectacular if I do say so myself. Okay, not really, but by some trick of the light the boob that is visible looks fairly good. I doubt I'll ever get a better pic so I'm just going to go with it.
my rack
Well, that's it. I was trying to take a picture of one of my ears to show you how incredibly simian they are, but I'm not having much luck. Maybe next time.