So, for all my legions of fans (hi, Mom!) who might be wondering what glamorous, hip, and provocative activities I engaged in this weekend, I will tell you if you promise not to be jealous.
I cleaned out my refrigerator.
See, just when you thought this blog couldn't get any more riveting after that amazing post in which I whined about my back problems, I go and pull this out of my hat. Because I'm always thinking of you guys! Hey, it was either this or some more crappy poetry.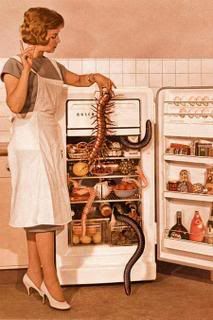 No one would ever mistake me for a good housekeeper or anything, but even I have some standards. When I opened up the fridge door early Saturday morning, looking for butter for my toast, I was greeted by the sight of about thirty bowls covered in Saran Wrap. Each little bowl had about a teaspoonful of something that most people wouldn't think to save, like a spoonful of corn, or a dab of macaroni and cheese. No wonder I can never find a clean bowl or a coffee cup. My mom is insane.
Honestly, I can't imagine what she is envisioning when she carefully wraps these little treasures and stores them away. I mean, what hungry person would open up the refrigerator and think to themselves, "Oh goodie, there's a morsel of peas, a bite of chicken flavored Rice-A-Roni, and three rubbery spears of asparagus. Lunch is served!"
Once I tossed all that stuff in the trash, I figured I might as well keep going. Here are some of the more interesting things I found:
Five jars of pickles (all garlic flavored)
Three jars of mustard (one sweet-hot, two Gulden's)
One jar of key lime jelly. Who has ever heard of lime jelly? I don't remember buying that.
One mini bottle of Hypnotiq. I'm not sure how that ended up in my fridge, but I had never tasted it before so I opened it and slugged some down. Blech, it was like drinking expired fruit juice. Really awful. Why do all the rap stars love it?
One jar of Tennessee Chow Chow. It's kind of like relish. Pretty good stuff.
One half empty bottle of Newman's Own ranch dressing, expiration date 11/05.
A mixture of one dried up egg, almond oil, and something I assume might have been milk. It puzzled me until I remembered it was a facial mask recipe that I made up last month and forgot to apply. It was stuck to the bowl like cement. I'm sure it would have tightened my pores.
So to summarize, yes, my weekend was fantastic! And yes, I am a slob who enjoys garlicky pickled products. How was your weekend?