Dear Diary,
Life sucks as usual. I hate my job, but every other job that I've applied for seems worse. One of those damn protesters poured diet Mountain Dew on my new distressed metallic-Italian leather heels and now they are a sticky mess. And last night my cousin Balki showed up on my doorstep, looking for a place to live. I guess my other cousin Larry kicked him out of his Chicago apartment. It's not like I can say no, the guy barely speaks English. My dad's people all come from a tiny Greek island called Mypos where everyone herds sheep and marries their relatives. Thank God dad got away! My mom wants me to get Balki a job at The Boobie Barn. Great, like I don't have enough things to do.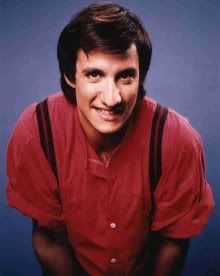 Cousin Balki is already getting on my nerves. He's full of stories about the old country, and the time he was abducted by gypsies are something. I try to tune him out.
Anyway diary, like I said, I've been feeling a little blue and in need of some distraction. My friend Lindsay and I decided to head over to the fairgrounds on Saturday night to see what was going on. I was just devouring a deep fried pickle on a stick (yeah I know that's not on my raw diet. Shut up!) when I spotted him up on stage, strumming on a guitar. My new true love. The lead singer for Jordan Catalano and the Emo Boys.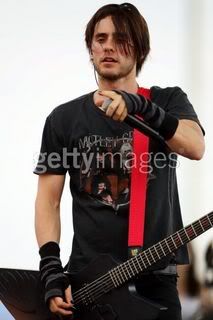 He had the voice of an angel. Or at least, a better than average boy-bander. He looked right at me as he sang these words:
Oh Mary was the type of girl
so nice that she was rude
she liked to wear one red shoe
and maybe do a shot or two
it always got her in the mood
to eat junk food and get tattooed
it may be lewd but I viewed her nude
and later on we totally screwed
it was transcendent ---until she spewed
oh yeah, yeah, yeah,
oh no, no, no
So poetic! I deeply felt that we must be soulmates. I was so mesmerized that I accidentally jabbed Lindsay in the eye with the pickle stick. She barely noticed. Her face was all slack with lust. Drool was beginning to leak from the corners of her mouth. I knew I would have to fight her for this guy.
I figured I had a good chance. I mean, sure, she has blonde hair and big round boobs, but I have intelligence and wit and a slightly better than average ass.
Well, you can guess what happened. He went home with Lindsay. Men always go for the big boob types! I comforted myself by imagining how many STDs they had between the two of them. It was like trying to guess how many jelly beans are in a jar. I'm not very good with math.
But wait till I tell you this, diary. I had the last laugh. When I went to Starbucks last night for my Venti Decaf Pumpkin Latte, I saw him in line. He didn't look all that hawt.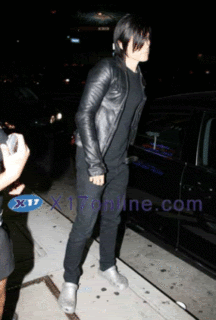 He was wearing Crocs. That's right, Crocs. Shiny silver ones. It was like -- so lame. And he was totally wearing last seasons eye liner. I smiled real big at Lindsay. She scowled at me and gave the finger.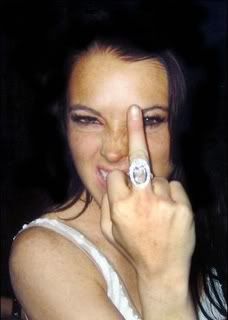 Looks like Linds has been hitting the hair dye again. I wonder what happened to the #26 Bimbo Blonde?
Lindsay doesn't have much of a sense of humor. I much prefer hanging out with Paula. While we were at Starbucks, Mr. Dreamy walked in.
"Hullo girls."
Even though I still think he has a goony voice, I'm starting to crush on Mr. Dreamy myself. He's just so shiny. Plus he smells really good. Like....designer spring water and white truffle shampoo. Paula remarked that he was so beautiful he made her want to cry. And then she did.
That crazy Paula! She's a lovable little nut, she is. She wasn't even that drunk!
Well I gotta go, diary. I need to speak to Captain Peanut about a job for my cousin. Paula said she would pay Balki to rub her feet and warm her cold, cold bed, but I'm sure she was kidding. I don't think even she is that desperate. He's really irritating. Even Tucksworth can't stand him. He keeps smacking Balki upside the head with a stainless steel ice bucket. I really need to get that monkey another bag of weed. He's so irritable lately.