I was tagged a while back by the lovely
Helen
to write about my dreams. The tag goes something like this:
Write five things you want to be when you grow up. Big dreams that seem like folly, but in your heart of hearts are very real and dear to you. Things that maybe you have forgotten about in the ebb and flow and toil of the everyday, but that never really leave your soul. What you would do if anything was possible?
Well, the thing is, I've never had any kind of realistic dreams or goals. Even as a child, I never dreamed about being a vet or anything remotely attainable. I always wanted super powers or something. So, I will just cut straight to that last line "
what would you do if anything was possible?
"
Here is what I would do:
1. I'd like to be a man for at least a week. And not just any guy either, I'd want to be a real studly man, like a seventies era Burt Reynolds. I'd wear tight pants and unbuttoned silk shirts that would allow my chest hairs to bristle out fetchingly, and have a hot babe on each arm. I'd say stuff like, "Hey baby, come suck on Burt's mustache," and the girlies would be all over me. That would be awesome! Or else I'd like to be a real tough dude, like Chuck Norris, so I could kick butt. Maybe I'd go over to Iran and singlehandly destroy their nuclear weapon making capabilities while giving their president a roundhouse kick to the face live on television. It would be fun to be such a complete badass.
Who could resist me?
2. I'd travel back to biblical times so I could hang out with Jesus and see for myself what really happened. Knowing me, I'd be standing around with Doubting Thomas during the entire crucifixtion, speculating on what tricks Christ would use to make himself appear to die and rise again. I'd also like to see him walk on water and party with him. I wonder how much wine it would take to get the son of God drunk?
3. I'd like to be Samantha on the old television show "Bewitched" (not the stupid movie with Nicole Kidman). She was hot, and it would be nice to just be able to just twitch my adorably pert little nose and have whatever I wanted to happen happen. Plus it would be fun to hang out with her mom and evil cousin. We'd drink martinis all day, and fuck with Mrs. Kravitz, and conjure me up a much more attractive husband than either of the two Darrins.
4. It would be nice to have taste buds that made broccoli taste like pizza. I'd be the healthiest bitch in the world.
5. My biggest hope is to one day be completely debt free. Unfortunately, it will be about as likely to happen as my first four dreams.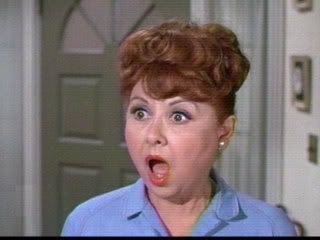 Abner! Prunella is going to do another meme!
I was also tagged by my favorite 80's music lover
Onehungman
to share seven random facts about myself, so I think I'll go ahead and do this one too, seeing as to how I'm on a roll and all.
1. I don't really have any artistic talent, but I like to doodle constantly. My favorite thing to doodle lately is pictures of The Creature From the Black Lagoon. I also like to draw sleestacks from the old Land of the Lost series.
2. I love books. I tend to think of my favorites as old friends.
3. I own an OJ Simpson doll. It was made during the seventies, back when he was a football hero. It's probably worth some money, but it's in bad condition and missing a leg. Once I dreamed that it came to life, Chuckie-style, and started trying to stab me. It freaked me out enough that I moved the doll from my bookcase to a bathroom drawer. But now that I think about it, I should go ahead and move it back. Even if it did try to stab me, the damn thing is only eight inches tall and since it only has one leg it would have to hop. I could easily kick it across the room.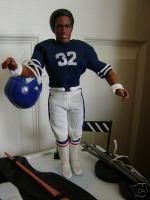 Muyhahahahaha!
4. I came into the world feet first and nearly died at birth.
5. Even though I own a lot of beautiful shoes, I tend to wear the same old, beat-up pair of navy blue Converse sneakers everyday because they are so comfortable.
6. I wish I was a type A personality who could get things done, but I'm more of a slacker. If I do two things on my daily to-do list, then that day is a success. I also have loner tendancies. Too much human contact makes me crabby.
7. I have a really embarrassingly goofy laugh. I think it makes me sound like Alice the Goon.
I will tag the following people to do either one (or both) of these:
Brenda Love
Morbid Misanthrope
Diane
LA
Norm
Sudie
And anybody else who has not yet done one. C'mon, you know you want to.