November is the cruelest month. It's when the weather starts turning cold here in Tennessee. While I enjoy seeing all the beautiful colors of the fall foliage, I'm a California girl and therefore I freeze when the tempetures dip below 60 degrees. I hate the way indoor heating dries out my skin and sinuses, and I hate wearing a hat outdoors because it messes up my hair. And also, since the weather has turned colder, my cousin Balki can no longer sleep in the shed out in the backyard and had to move back into the house.
Did you forget that Balki was living with me? That's okay, I kinda forgot myself. I rarely see him at The Boobie Barn. He works with the janitorial crew, cleaning up at the end of the night. During the day when it was warm, he liked to sit in the back yard carving little toys out of wood. Now that it is chilly, he lays on the couch with Tucksworth watching reruns of "Making the Band" on MTV. Since I've been suffering from a bit of blogger ennui lately and I don't know what else to do with myself, I join them. Wow, that O-Town was something else, huh?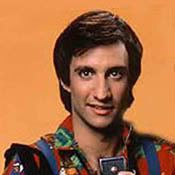 Cousin Balki. He's very single, ladies!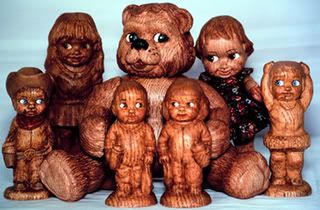 The wooden toys Balki made. He's hoping to sell them so he can become an American millionaire. Very cute, I guess, but for some reason they freak me out. Those eyes are creepy.
Oh, and I solved the mystery of Captain Jesus. Turns out he is one of Balki's friends from work. His name is Corky, but we mostly call him Captain Jesus because of the suit he always wears. When asked why he wears the suit he just shrugs and says, "because I like it." Can't argue with that.
On Thanksgiving Day we were all hanging on the sofa watching tv, while my mom fussed around with the turkey in the kitchen. I don't much care about a traditional dinner, if it were up to me I would have just ordered in Chinese food, but she loves all that Martha Stewert stuff so she cooked up a storm and invited a lot of people. In addition to me, Balki, and Captain Jesus, we had Mom's new boyfriend, Ronnie, and two more of Balki's friends, a guy named Hamburger Dave, and a guy (girl?) named Bryce. Mom also invited Paris the alien stripper because she feels sorry for her. I didn't invite anyone to eat with us, since I'm basically antisocial.
I like Hamburger Dave, though. He's really easily amused and laughs like a hyena at everything I say. Even lame jokes, like when I say, "hey Hamburger Dave, get in mah belly!" make him giggle like crazy.
Bryce is another story. He (she?) is a weird goth kid that lives down the street from us. I honestly cannot tell if Bryce is a boy or a girl. When I asked Balki he said, "Don't be reedi-cool-us cousin, he is big, strong man!"
Then CJ piped up, "are you sure? I thought she was a girl."
So who knows? I'll post a pic and you can tell me what you think.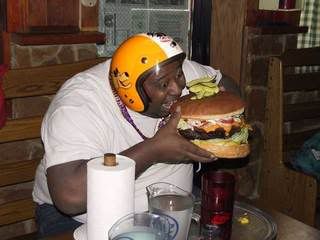 Hamburger Dave. His hobbies include competitive eating and collecting condiments.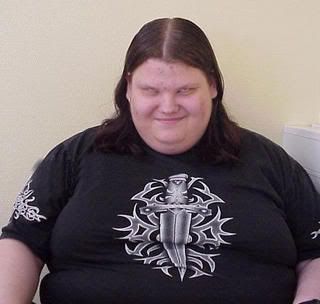 Bryce. He (she?) enjoys goth music and being androgynous.
Anyway, we were watching MTV as usual before dinner, when "The Hills" came on. That show makes Tucksworth scream in agony and I hate it too, so I quickly changed it over to VH1 and we watched a Behind the Music special on
New Kids on the Block
. Balki was mesmerized. After it was over he turned to me and sid, "Cousin, I have thought of new way to become American millionaire. I will start boy band. Me, CJ, Bryce, and Dave can sing and dance and look sexy just like New Kids. Good idea, yes?"
I nearly choked on the Bloody Mary I was guzzling, but the others were enthusiastic. Even Bryce was into the idea so maybe he is a boy after all. They started talking excitedly about what kind of songs they would sing. I restrained myself from making fun of them. After all, who am I to kill their dreams? When Paris finally arrived, Balki dropped to his knees and seranaded her with a love song.
"Oh Miss Paris
if I were not embarrass
I would tell you that I love yooooouuuuu"
I had suspected that Balki had a little crush on Paris. Poor guy, she wasn't very impressed with his efforts. She just kind of smirked and whipped out a mirror and applied another layer of gloss to her already goopy lips.
It was a big relief when my mom finally called us all to the table. Before we started eating she made us say grace and then we each had to tell what we were most thankful for. It's a tradition she began a few years ago, after she read about it in
Southern Living
magazine. Here's how it went:
Mom:
Okay, I'll start. I am thankful for my family, good friends, and the pre-roasted turkey from Publix that only needs to be heated for two hours. It's such a wonderful convenience.
Ronnie:
I am thankful to have met such a gorgeous and sexy woman like you, Sarah.
He kissed her hand, which made her giggle. I nearly vomited. Old people love, eeeek!
Balki:
I am thankful to be here in America where I will soon be millionaire boy bander and I can marry Paris and buy her fur coat.
Paris was busy staring at herself in the mirror again so my mom had to prompt her. "Paris, hon, what are you thankful for?"
Paris:
huh?.........um whatever.
Maybe Paris isn't an alien after all. Maybe she's just dumb.
Hamburger Dave:
I'm thankful for turkey. And green bean casserole. And gravy. And stuffing. Is that Stove Top stuffing?
Mom:
No, it's homemade. I got the recipe from Food Network.
Hamburger Dave:
Oh well, that's okay too.
Captain Jesus:
I'm thankful for science.
He didn't elaborate so my mom prodded him.
Mom:
Oh that's very interesting, Corky. Why are you thankful for science?
Captain Jesus:
(shrug) I just like it.
Me:
Well, I'm grateful I never got that lower back, tramp stamp tattoo I had considered getting a couple of years ago. I think I'm the only girl at The Boobie Barn without one.
Mom:
(making face) Oh you, always making jokes. Quit being so sassy!
Suddenly Balki jumped up from the table, very excited.
Balki:
That's it! That's the name for our boy band! We will call ourselves The Sassiest Boys in America! Or SBA for short. What you think?
No one said anything. I think were all trying not to laugh. I know I was. Ronnie snickered a bit but my mom glared at him so he stopped.
Paris:
That's hawt.
Balki
Oh good. It is settled.
Bryce:
Well, I'm not really a sassy boy --
Me:
So you are a sassy girl then? (I'm not usually this rude, but the Bloody Marys had kicked in.)
Bryce:
(glowering) I was going to say that even though I'm more goth than sassy, I'm grateful to be included in The Sassiest Boys in America. I'm also grateful for Harry Potter. And by the way, Pru, you really need to dye your roots. You've got at least an inch of dark showing in that blond hoochie hairdo.
My hand automatically went to my hair. He (she?) was right. I do need to touch up my roots.
Me:
Oh snap! You're sassy all right.
Paris:
I'm thankful that I'm a natural blonde. (sniff) Ewwww, what's that, like, smell?
The minute she said that, I became aware that foul stench had filled the room. Everyone scrunched up their noses and looked around in disgusted horror.
Hamburger Dave:
It wasn't me!
I knew immediately what it was. My beagle, Shirley, was sitting under the table hoping a piece of turkey would come her way. She's always been a somewhat fragrant dog, but just lately her emissions have been powerful enough to clear a room. It's because my mom is always feeding her table scraps, I think. Once we kicked her out and opened all the windows, we were able to eat without gagging.
So, contrary to my expectations, it turned out to be a pretty nice Thanksgiving. The Great Gazoo didn't show up and bug me, so that helped matters. Tell me, how was your holiday?