Simon:
Okay, let's see our first contestant. Go ahead Kevin.
Kevin:
Yo Popozao!
In Portugese it means "bring yo ass,"
on the floor, and move it real fast.
I want to see your kitty and a lil bit of titty -
Simon:
Stop! That's enough. That was horrible, awful. Get out now!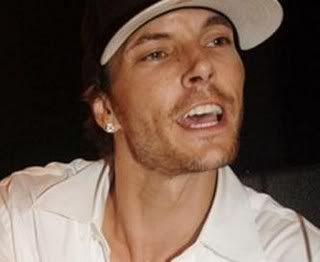 Kevin:
Yeah, you don't know nuthin. I'ma be big in 2007! Word. Check it. Peace out!
Paula:
You looked hot though. Can I get a lil drink from that bottle before you go?
Simon:
NEXT!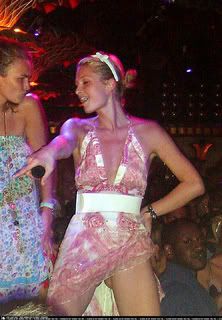 Paris:
I know y'all be wishin
you was in my position
I'm makin mad money fool
making all the Greek billionaires drool.
Poor Nicole ain't got a clue
how to lose weight without starvin
it's easy, just go to the toilet and spew!
Duh, I mean duh, I mean really DUH!
Simon:
Thank you, that's enough. Sweetheart, what are you thinking? That was atrocious.

Paris
Oh come on. Please? I'll let you do me in the butt.
Randy:
Oh Kay! I vote yes.
Paula:
Sorry, but I gotta say no. You looked amazing though and mumble mumble (hic)
Simon:
NEXT! Okay Prunella Jones. Tell us why you should be the next American Idol.
Pru:
Well Simon, because I'm hot, sexy, spicy, smart, cute, I've got a great ass, and if you don't pick me I'm going to set your cars on fire. Tee hee.
Pru:
uno, dose, tres, four
Prunalicious definition, make them boys go crazy
no one can dance as good as me except for Patrick Swayze
coming to me, call me cutie
I'm the P, to the R,U,N,E,L,the L,to the A
and don't you wish your girlfriend was hot like me?
Simon:
Uhhhhhh okay that's enou --
Pru:
I'm Prunalicious (so delicious)
I shake my ass and spread my legs because I'm so ambitious
some people try to say my rhymes are repetitious
but yo they just jealous of my fitness (so delicious)
t-t-t-t-tasty, tasty! Owwwwwwww
Simon:
Stop! Enough! That was dreadful, abominable, and just plain wrong. I think I'm going to vomit. Randy, what do you say?
Randy:
Sorry, dawg, but you're a dog. Not going to happen.
Pru:
Wait, I can yodel! High on a hill was a lonely goatherd
lay ee odl lay ee odl lay hee hoo --
Simon:
NO! Did you really believe you could be the American Idol? You must be deaf.
Paula:
You're hair looked great, but....(giggle) okay nevermind, you really did suck.
Pru:
No, no you don't understand how much I want this! It's not fair. I've lost 200 pounds for this, I stole $600 bucks from my grandma just to get here! I am gorgeous and I will be famous! All three of you suck! You guys are going to be sorry. I've got a knife in my purse and I'm going to cut you up! I'm going to boil your bunnies! You will regret this! Oh yes! Ha ha ha ha. I'm mad I tell you. Please? Pleeeeeeeeeease?!
Simon:
NEXT.
Paula:
hic.