Sorry to have disappeared on you all. I didn't mean to, it's just that I've been very busy with my new job - acting as an earthly host for demons - and what with all the screaming, 360° headspins, and bed levitation, there just hasn't been much time for anything else.
Not to mention the pea soup projectile vomiting keeps mucking up my keyboard.
Things are looking up though. A priest is on his way. I should be back to blogging normally in no time.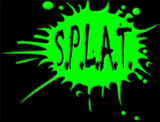 Well, as normally as I'm capable of at any rate.
Ewwww, that pea soup is so gross.