Well, it's been fifteen days without Adderall. BOOOOO!
I guess I am sleeping a bit better. YAAAY!
But feeling kind of meh. BOOOOO!
Although, it's given me a chance to catch up on Oprah. YAAAY!
Sorry, that's probably annoying. I'm done now. Promise.
YAAAY!
In other other news, my new camera is pretty cool. I'm trying to get into the habit of taking it with me wherever I go. I took it to the grocery store not long ago. Here are a couple of pictures from that outing.
I like grocery shopping late at night when it's practically empty. The workers are more laid back. I caught this enthusuastic young lad singing along to Oasis. Publix has good piped in music, not that boring muzak stuff. I joined him for the chorus - "...and after all, you're my wonderWALL!"

Isn't he cute? Why I just want to pinch his cheeks I do! The cheeks on his face, that is. I'm not a filthy minded old woman. Not yet anyway.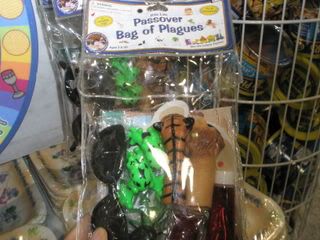 Look at these cool Passover toys. Man, do I wish I was Jewish. Baptists don't have anything this good. Who could resist a toy bag of plagues? You can't see it in the picture, but it comes with a tiny rubber hand covered in boils. I almost bought it but it was $10.99 and I'm poor.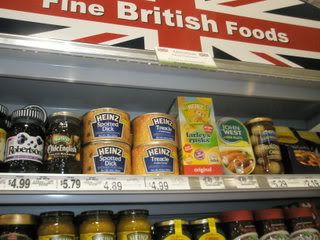 Nashville is getting so cosmopolitan. Check it out, y'all, we gots us some British food now. One of these days I want to try the Spotted Dick pudding. That name makes me snicker. And also, think of Michael Jackson for some reason.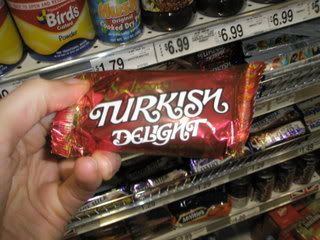 I did buy this candy bar. It sounded intriguing - rose flavored candy covered in chocolate - but I had to spit it out. It tasted like a mouthful of my grandma's perfume. Bleh.
On the way out of the store a pretty interesting thing happened. I managed to step in dog shit. Now maybe I should've been paying more attention but it was dark and what, do I live in Calcutta? Who would expect dog poop in a grocery store parking lot? It really pissed me off. I put the shoe in a grocery bag before I got in the car and when I got home I threw in on the back porch, figuring I'd deal with it after I unloaded the groceries.
One week later.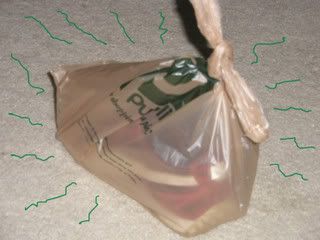 Note the actual, unphotoshopped stink waves. Isn't this camera amazing?